WELCOME TO COMET TOOL
Since its founding in 1974, Comet Tool Inc. has grown to be one of the most successful, highly-respected job shops in the Twin Cities.
In our modern facility in Hopkins, Minnesota, we perform precision machining and deep-hole drilling with a variety of materials. Learn more about the Solutions we can offer YOU.
Our partnerships with our clients is a source of our pride. We pledge our loyalty and reliability in all our customer dealings. Meet Our Team.
We are a business team that builds customer and employee relationships based on high moral and professional standards.
Equipped For Anything
Ongoing customer satisfaction is built into our way of doing business. Read about our QUALITY ASSURANCE.
We want you to be part of our success and we want to be a part of yours.Together we can respond to the rapidly-changing world of high-technology manufacturing.
We achieve this with: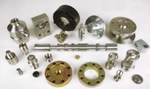 Ongoing Education
Upgrading Equipment
Experience Gained from Years of Solving Difficult Production Challenges