ABOUT COMET TOOL
Comet Tool is a second generation, family-owned precision manufacturing company that has built and maintained a tradition of quality and fair pricing since 1974.
We cater to medical, electronics, defense, aerospace, industrial controls, machinery, heavy equipment, and other OEMs (Original Equipment Manufacturers)—clients who demand high precision, quality, and competitive pricing.
Serving Minnesota
In our modern facility in Hopkins, Minnesota, we perform precision machining and deep-hole drilling with a variety of materials.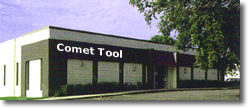 There we specialize in complex and demanding prototype through short-run production components. Our delivery performance is exceptional; our record of quality is unmatched.
We craft precision parts from a variety of materials, specializing in working with nickel alloys such as stainless steel, inconel, monel, and hastelloy.
We are a business team that builds customer and employee relationships based on high moral and professional standards.
We pride ourselves on our partnerships with our clients; and we pledge our loyalty and reliability in all our customer dealings.