MILLING & TURNING AT COMET TOOL
We specialize in working with nickel alloys such as stainless steel, inconel, monel, and hastelloy. We are continually upgrading our capability to provide high-technology. Contact us to learn more.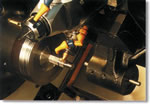 CNC MILLING
4 axis
through spindle coolant
10,000 RPM
machine envelope 24" X 50" X 20"
CNC TURNING
mill, turn capacity
bar feeders
twin spindle
machine envelope 14" dia. X 40"
PRECISION GRINDING
cylindrical
surface
EQUIPPED FOR ANYTHING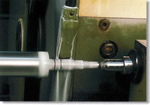 Ongoing quality assurance is built into our way of doing business, as well. Our complete inspection and calibration system, together with our experienced operators' involvement, ensures unequalled quality improvement.
Read about our QUALITY ASSURANCE.
Then CONTACT us to help with your next project.